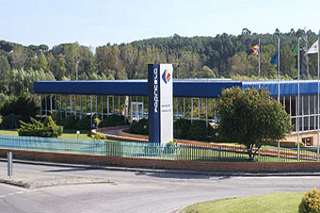 FAPRICELA - Indústria de Trefilaria, S.A., a family-owned company founded in 1977, began operating almost solely as a construction nail manufacturer. As the years passed and the company grew, new products were progressively added to the portfolio as a result of the changing market demands: fencing, wire, electrowelded wire mesh, low relaxation pre and post-stressed steel strand and wire and spring wire.
Indeed throughout its history, the company has always been committed to quality. Through continuous investment, focusing and combining innovation with high technology (equipment automation), along side with systematic quality control, Fapricela is placed in the position of a leading wire drawing company in Europe. It produces for both the internal and foreign market, and currently the turnover amounts to € 125.000.000, against € 9.980 in 1977.
Its premises occupy at present a covered space of 90,000m², surrounded by approximately 200.000m² of open property, and the company currently employs 320 workers, which makes it one of the major employers of the centre region. Together with controlled financial management, Fapricela – Indústria de Trefilaria, S.A., is approaching its ideal which is quality manufacturing to satisfy demands.
Imbued with this entrepreneurial spirit and determined to diversify the manufactured products, the Fapricela Industry Group acquired in June 2007 the company Ibermetais, S.A., located in Freamunde – Paços de Ferreira, a wire drawing industry manufacturing mild steel wire.
Fapricela UK Limited has V.A.T. Nº GB 906 609 519, and Registered Nº 05847305.